Ireland has been in my bucket list for a long time. In 2018 I finally decided to go there for Easter and I had an amazing time exploring the country. I was amazed by the vastness of its wild landscapes and the kindness of its people. I spent 5 days there and I wish I had more time because it was not enough to explore the whole island.
I definitely recommend you to plan your trip in advance to make the most of your time in Ireland. There are so many things to do and so many places to visit that you will regret it later if you don´t invest in some research prior to your trip.
The best way to explore the island is driving around. I rented a car at Dublin airport and from there I started my journey in Ireland. Just keep in mind that you drive at the right side, which can be challenging if you're not used to.
I will share my itinerary day by day. I hope that it will be helpful for your trip planning. I've had to make some tough decisions for the sake of time because 5 days was not enough to cover the whole island. I prioritised Northern Ireland – which in fact is another country and belongs to United Kingdom, and in Ireland the North West of the country and Dublin. I would have loved to go to the Ring of Kerry in the South, but I will have to wait until my next visit to this beautiful country.
I was lucky because even if Ireland is known for rainy weather, I had beautiful sunny days almost the whole time I spent there
Day 1 – Exploring Northern Ireland and Giant's Causeway
I arrived to Dublin airport very early in the morning and I rented a car there. I had a clear objective for this first day: cross the borders to Northern Ireland and visit its North coast.
From Dublin to Portrush in Northern Ireland is about 3 hours drive but the roads are excellent. Just be careful about driving at the right side if you're not used to and take in consideration that road numbers in Northern Ireland (which is part of UK) are different from the ones in Ireland (Republic of Ireland). Also speed limits in Northern Ireland are miles per hour and in Ireland are kilometers as in the rest of Europe.
I finally arrived to Portrush, a small seaside town just a few miles away from the most famous sights in Northern Ireland and I started exploring it. 
Portrush
Walk around the center of this small town until the vast and wild beach kissed by the cold Atlantic Ocean. It used to be a small fishing village that became a popular holiday destination for locals.
Dunluce Castle
Don't miss the ruins of this medieval castle on the dramatic coastal cliffs. This iconic historical site was built more than 500 years ago and it is just like I imagined that Northern Ireland would be. Buy the ticket to go inside and get lost imagining how it should be centuries and centuries of years ago.
Giants' Causeway
This is probably the most known attraction in Northern Ireland. Its unique rock formations with symmetric columns are definitely one of the most beautiful natural spots that I've ever visited. From the parking area to the site it is probably a 15m walk (you can also take a bus) but it's totally worth to walk as you will be delighted by beautiful coastal landscapes.
Carrick-a-Rede Rope Bridge 
The attraction of this area is a bridge suspended 30m above sea level that was built 350 years ago by fishermen. The bridge connects the mainland with a small island – Carrick-a-Rede Island. To get there you will have to walk 30m with scenic cliff views and sheep grazing. I visited it at sunset and it was stunning.
The Dark Hedges
This avenue of beech trees form a tunnel that was used as location of Game of Thrones (in the first episode of the second season when Arya Stark travels through the Hedges – King's Road in the show – to join the Night's Watch). If you are as fan of GOT as I am, you will be excited to visit The Dark Hedges.
Day 2 – From Londonderry back to Ireland - Sligo
Londonderry
I started my second day in Londonderry, the second largest city in Northern Ireland. I walked in the city center and I explored Derry's City Walls, a 1.5km walk with scenic views around the city. There are some other nice places to visit like St. Columb's Cathedral, Tower Museum, Guidhall or the murals of Bogside.
Donegal and Sligo
After Londonderry I left Northern Ireland and I continued my journey in Republic of Ireland to explore the beautiful wilderness of Donegal, the most-northern county in Ireland.
I recommend to drive along the Wild Atlantic Way, a coastal touring route that will allow you to enjoy breathtaking scenery.
From Donegal I entered Sligo county and I stopped in Mullaghmore, a small village in a peninsula characterized by ocean views and a skyline dominated by the monolithic shape of Ben Bulben mountain. The endless roads by the sea and the Classiebawn Castle are a must see.
My next stop was Sligo and to get there I passed by some cute little towns like Grange with its typical sheep farms and green landscapes.
I arrived to Sligo at the end of the day and stayed there for the night. It's worth to take some time to walk around its small streets and corners. At night it gets a special magic with the city lights reflected in the river that crosses Sligo.
Day 3 – Beautiful Connemara
In the morning of the third day, before leaving Sligo I visited Sligo Abbey, a Dominican abbey that survived from medieval days and I had another walk in the city at day light.
But my main goal for this day was to visit the dramatic and breathtaking landscapes of Connemara in the west coast of Ireland. I have to confess that this was one of the highlights of the whole trip and I felt in love with the wilderness and vastness of this region with long and deserted roads surrounded by magnificent mountains, small villages, turf stacks, sheep and stunning countryside. There are no words to describe the beauty of Connemara.
I explored the region for hours stopping at some villages like Leenane, and I finally arrived to Kylemore Abbey, a beautiful castle in the middle of Connemara and one of Ireland's most famous attractions. It was built as a castle and offered by a wealthy businessman to his beloved wife. Later in the 20th century it became a Benedictine nun's abbey.
I headed then to Galway, the third biggest city in Ireland, where I stayed for the nigh. Compared to the small towns I've visited the days before, Galway seemed to be a way more cosmopolitan and lively with lots of restaurants, bars and shops.
Day 4 – Kinvara, Doolin and Cliffs of Moher
This was probably the most exhausting day of my trip to Ireland as I had planned to visit many places and my goal was to sleep in Dublin. In total more than 400km with many stops and stunning things to see. Even if I arrived to Dublin at 1am, it was totally worth it.
Kinvara 
Kinvara is a seaport village located Southwest of Galway and it is often called "The Head of the Sea". It has a small pier, colourful houses and one of the most enchanting and photogenic castles in Ireland, Dunguaire Castle.
Doolin
Head South and stop in Doolin, the gateway for Cliffs of Moher. This small village by the sea has a dramatic and rugged landscape and some of the cutest typical houses in the region with vibrant colours. I didn't know but it is also the home of traditional Irish music. I regretted not having more time to spend a night there as this village is absolutely charming.
Cliffs of Moher
It's easy to understand why Cliffs of Moher is considered to have some of the most breathtaking landscapes in Ireland. Those majestic sea cliffs run for about 14km and they offer plenty of opportunities for visitors to explore several paths, from Hag's Head to Doolin, passing the Visitor Centre and O'Brien's Tower. There is one official trail and an unofficial one that runs closer to the edge, if you take the unofficial make sure you are careful. You can easily spend one day there.
From this area you can also go to Aaran Islands, 3 small islands outside Galway Bay and just a few miles away from the Cliffs of Moher. You can take a day trip there or stay in the islands. I wish I had one extra day to go there, so next time in Ireland I won't miss this for sure.
With only one day to explore Dublin, I knew I had to make the most of my time there and I planned in advance most of the places I wanted to go. It rained for the first time since I had arrived to Ireland and the weather was extremely chilly so I finally experienced the famous Irish weather.
Trinity College
This is the most known Irish University for the excellence in academic studies and for the beautiful campus. Its library is the permanent home to the famous Book of Kells, an illuminated manuscript Gospel book containing the fours Gospels of the New Testament.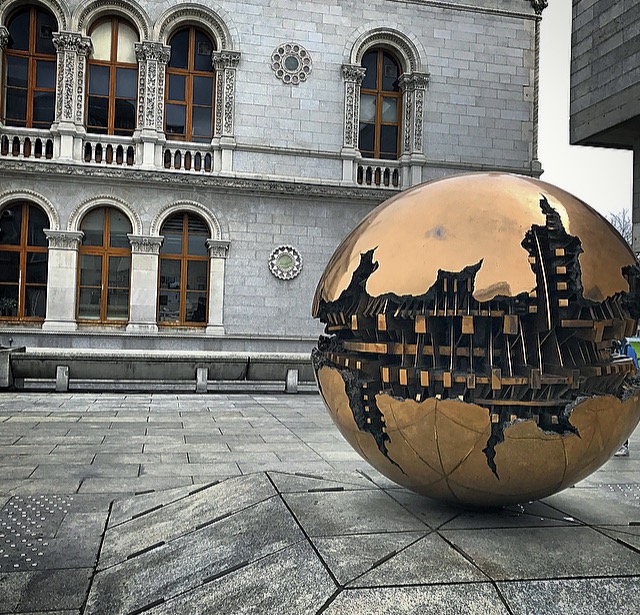 Saint Patrick's Cathedral
This impressive cathedral is the largest church in Ireland. The gardens around are also especially pretty during springtime. 
Christ Church Cathedral  
It is also worth to visit the second largest medieval church in the city.
Guiness Storehouse Factory 
This is one of the most famous attractions of the country, allowing you to have a tour through the Irish brewery tradition and to learn the history of Guiness family. 
Dublin Castle
Don't miss this complex from Irish government located at the heart of historic Dublin.
Temple Bar Area
Finish your day in Dublin in the best possible way at The Temple Bar, probably the most iconic bar in Ireland. It dates back to the 14th century and even today is a must go place when in Dublin. In this area you also find many options of bars, restaurants and cafes and it's nice to spend some time just walking around and feeling the positive vibes of this part of the city.