Pico Island the Lost Paradise
Pico Island
the Lost Paradise
Located in the middle of Atlantic Ocean and part of Azores archipelago, Pico Island is a lost paradise that will delight visitors with its natural unique landscapes. In this blog post I will share my travel guide to Pico Island, the perfect Azores getaway. 
I felt in love with this island in the moment I was arriving and my plane was approaching the land. I've lost count how many flights I've had but overflying and landing in Pico was one of the most beautiful flight experiences ever.
Pico is one of the nine islands that are part of Azores archipelago, an Autonomous Region of Portugal. Azores is absolutely magical and it has been considered by National Geographic in 2016 at the top of the 20 most beautiful places to see in the world. It's easy to understand why.
Characterised by an unspoiled nature with extinct volcanic craters, waterfalls, stunning colourful lakes and hot thermal springs, Azores is a place you should definitely add to your bucket list. It has three groups of islands: Eastern Group (São Miguel and Santa Maria), Central Group (Pico, Faial, São Jorge, Terceira and Graciosa) and Western Group (Corvo and Flores).
Each island is a small world with completely different landscapes and things to offer to visitors. So it's not easy to select which island(s) to visit when in Azores. I recommend to try to combine as many islands as time allows you, but staying enough time in each of them to explore and enjoy its uniqueness. 
I went to Azores for the first time many years ago to visit São Miguel, the biggest and probably most known island in the archipelago. I loved São Miguel and I want to go back to further explore it.
Last year in early December I returned to Azores for an unplanned getaway to visit another island. It was a tough decision but finally I decided to go to Pico, which had always enticed me with its iconic mountain, the highest in Portugal. I couldn't be happier with my choice. Pico Island was one of the most amazing destinations ever with Pico mountain dominating the horizon, rough lava stone landscapes, vineyards and the most incredible endemic vegetation.
What to visit in Pico Island? First of all it's important to know that Pico is a small island and you can drive around it in one day,  but it has many attractions and places to visit, so I recommend to stay at least 3 days (add 1 extra day if you plan to climb to the top of Pico mountain).
There are only a few hotels in Pico Island but many local accommodation options. I decided to stay in Aldeia da Fonte, a nature hotel with volcanic stone houses perfectly integrated in the beautiful landscape of Pico located in the cliffs and overlooking Atlantic Ocean.
The best way to circulate in the island is renting a car, which will give you flexibility to explore it at your own pace. I rented the car on the arrival at the airport and returned it on my way back.
In this blog post I will share  travel inspiration to Pico Island in Azores and my favourite places and tips to enjoy the island to the fullest.
Pico's  landscape is characterized by Pico mountain (in Portuguese it means Peak), which in a clear day can be spotted from almost any location in the island. It is the highest mountain in Portugal with 2350m and climbing it must be an unforgettable experience if you have enough time and you are in a good shape.
You can climb the mountain with or without a guide (even if it's recommended to choose a local company to guide you in this journey as it is a very steep hike to the top), but either way you have to check in at Casa da Montanha, located at 1200m. 
I didn't climb the mountain but I went to Casa da Montanha where I had a hot drink at the cafeteria. Usually it has beautiful views, but in that day it was completely cloudy and foggy.
Something to take in consideration when visiting Pico is that weather is quite unpredictable so you can have different seasons in the same day, from lovely sunny weather to sudden clouds, fog or rain.
Even if you decide not to climb to Pico, just observing it from different locations of the island is stunning as it really dominates the landscape. 
Let me tell you a secret. One of my favourite spots to observe Pico was in the middle of EN2 road that crosses the centre of the island from Lajes do Pico to São Roque. I had read that road was worth to take for the great landscapes (as well as road EN3 crossing the island from east to west), but I could never expect what I was about to find. 
EN2 road crosses the heart of Pico island and takes you to an inhabited land dominated by ancient and exquisite vegetation that I never found anywhere else. For the first time in my life I felt I went back thousands of year ago or I was in a movie scenario like Jurassic Park. 
Sometimes when you travel you face something unexpected that takes your breath away and leaves you speechless just living the moment. That was one of those unique moments. I stopped the car in the middle of the desert road and I took the most treasured pictures of my Pico trip (and some of the best ever).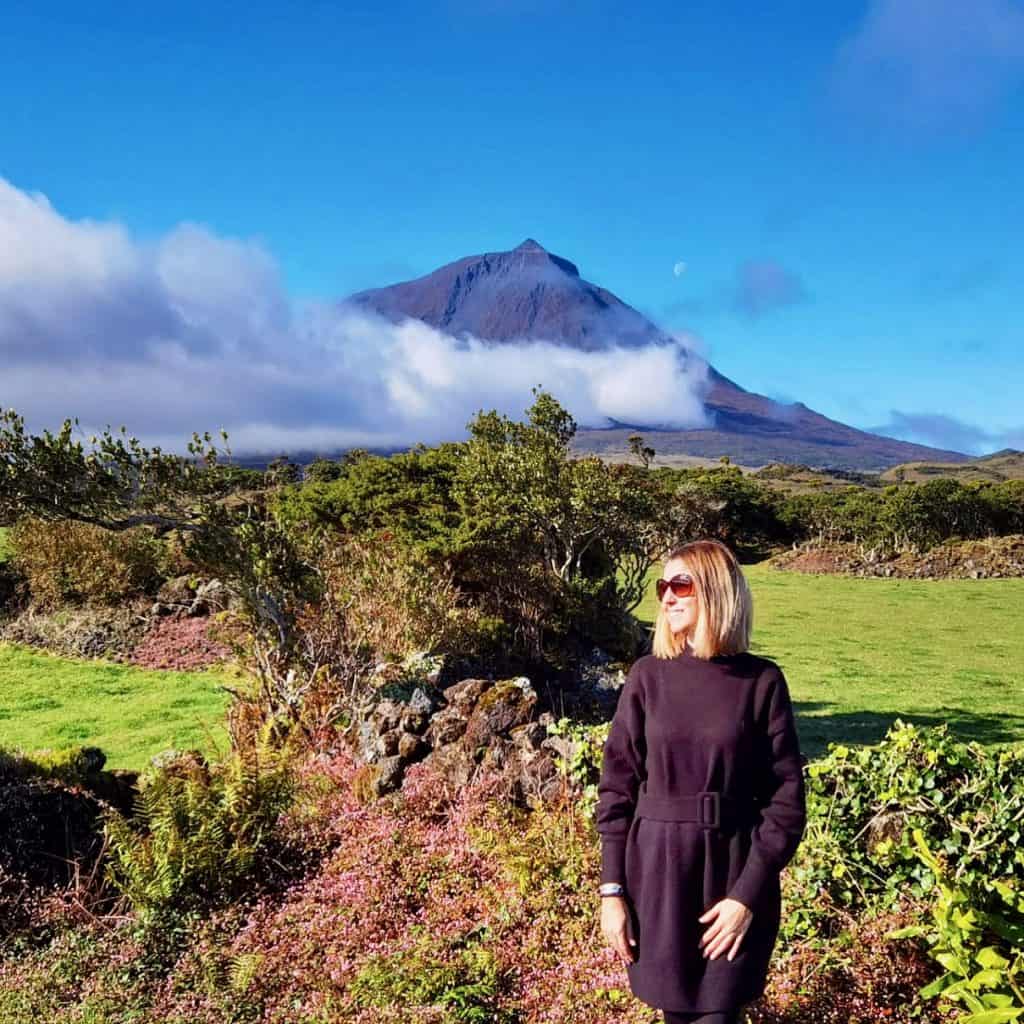 Pico volcanic landscape is also characterised by several lakes that are a must see when visiting this island, like Lagoa do Capitão or Lagoa do Caiado. To get there take a secondary road crossing the mythical EN2, more or less 1km before EN3 crossroad (you will see a signal pointing "Lagoas").
You are about to immerse yourself again in a Jurassic-like world with endemic vegetation that I've never seen before, contrasting with the typical green Azores fields with cattle grazing in the open air. By the way, be ready to encounter cattle around many roads in Pico. Literally the only traffic jam that I saw in this island was due to a bunch of cows that decided to walk in the road in front of the cars.
Take that road for several kilometres until you get to the first lake, Lagoa do Caiado. From that spot you will have another magnificent view to Pico, just in the middle of nowhere. From what I've researched, there are more lakes to explore continuing that road.
On my way back, I stopped the car in a hidden place where a great trail starts near the lakes. I only did part of the trail and it was amazing.
Vineyards and Vinhas da Criação Velha
There's no visit to Pico without admiring its singular vineyards, many of them facing the sea. Pico vineyards landscape is considered UNESCO World Heritage due to its uniqueness. 
Pico wine is famous worldwide. This viniculture tradition dates back from the 15th century. When the first settlers arrived to Pico only less than 5% of soil was arable. But due to the fact that the volcanic soil of the island is rich in nutrients and the persistence of the settlers, Pico became of the most important wine regions in Portugal. And probably one of the most distinctive in the world. The vines run along the ground on top of small black rocks to heat the grapes and with basalt stone walls built to protect them.
The most known vineyards are Vinhas da Criação Velha in the west coast of the island. Take some time to have a walk around the gravel paths alongside the stone lava walls protecting the vines.
There are some trails worth to explore if you are willing for a walk. Stop by the scenic red Frades Windmill, one of the highlights of this area from where you will have stunning views to the vineyards.
Next to Madalena city and close to another vineyard area at the east coast of Pico, Wine Museum is also worth a visit to know more about the viniculture industry of the island. Opened in 1999 and located in a former Carmelita's Convent, it hosts a great ethnography exhibition about the wine culture and processes, including a cellar, a distillery, a tasting and bottling rooms.
The outdoors of the museum are beautiful with a dragon tree garden and a stunning red footbridge and viewpoint from where you have amazing views to the surrounding vineyards and the sea.
Overlooking the Atlantic Ocean and the neighbour island of Faial (which is less than 8km away from ferry), Madalena is the main city in Pico with many options of shops and restaurants. 
Walk around the typical streets of Madalena, stop by the beautiful church at the heart of the city and go to harbour for the best views to Faial.
In Madalena I had some of the best meals in Pico. The food in Azores is delicious so consider gastronomy an extra bonus to your trip. Don't miss local delicacies like local honey and cheese, octopus, seafood dishes and a typical yummy bread called bolo levedo. Pair your meal with one of the great local wines.
Go to Cella Bar, considered one of the most beautiful bars in the world. Next to Madalena, it has won an architecture prize a few years ago. This unique construction combines an old and abandoned lava stoned building with a new timber structure designed as a cross between a barrel and a whale. It's worth a visit by day and by night and it's also a great option for a meal or some drinks.
Walk around Cella Bar in a beautiful walkway by the sea headed by naked and lonely trees.
Cachorro (which means puppy in Portuguese) is a small typical village not far away from Madalena known by its typical basalt houses and by its volcanic rock formations next to the sea. The most famous one looks like a dog facing the ocean.
One of my favourite villages in Pico was Lajido, which means lava fiels, one of the attractions of this area. This small village by the sea has the cutest volcanic stone houses with colourful doors and windows in red or green standing out. It is surrounded by the vineyards and heads to the ocean with amazing volcanic rock formations and natural pools.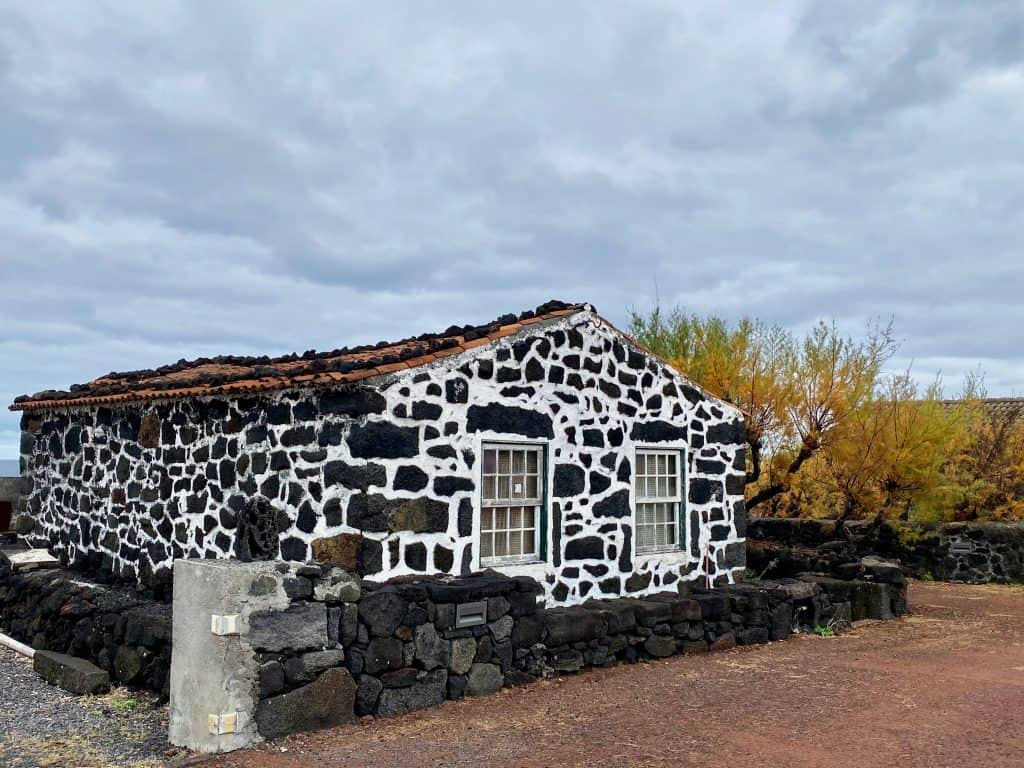 It is also home to the Landscape of Pico Island Vineyard Culture Interpretation Centre, a great starting point to understand the cultural heritage of the viniculture tradition.
This is one of the biggest villages in Pico and it's famous by its whaling tradition. There is a Whaling Industry Museum with information about the fishing and industrial processing of whales.
It is possible to book a boat tour for whale watching, I didn't have the time to do that but I've heard it is an impressive experience.
From São Roque you can also see São Jorge, another Azores Island, and there is a regular ferry to that island.
Calheta do Nesquim is another small village by the sea with a strong whaling tradition.  According to the local legend, it is called Calheta de Nesquim because a long time ago a dog called Nesquim saved three fisherman from a wreck. To honour the bravery of the dog, the locals named the village with the dog's name.
There is a beautiful area next to Calheta called Mourricão with another traditional windmill at the top of a hill.
Don't miss this beautiful village in the southern coast of the island. It is a typical village with cute coloured houses that reminded me the Faroe Islands. Take some time to walk by the narrow streets and by the seaside. At sunset the ocean views are amazing. 
Lajes do Pico was known for years as the whaling point of the island and it is still a great starting point for this cetacean's observation. You can also visit the Whaling Museum which was an old whaling factory.
Last but not least, if you are staying enough time in Pico, it is also possible to take the ferry to explore other islands from Azores Central Group that are nearby, Faial and São Jorge. I didn't have enough time to do that, but it's a great option for day tours from Pico.