Travel Guide to Positano and Ravello
Travel Guide to
Positano and Ravello
This Summer I finally visited the Amalfi Coast, and I'm happy to share with you my travel guide to Positano and Ravello. It's easy to understand why this Southern Italy's iconic coastline is one of the most known destinations in the world. The breathtaking coastal sceneries, picturesque villages carved in the hills with sea views and beautiful beaches makes it the perfect Mediterranean Summer getaway.
I had Amalfi Coast in my bucket list for a long time, but due to different reasons including the pandemic I had to postpone my trip several times. But in July I made it to the Amalfi Coast and I arrived exactly in my birthday, making it the best bday experience ever. 
First of all I recommend to stay at least one week in the Amalfi Coast to be able to explore the many places it has to offer. Listed as a UNESCO World Heritage Site, the Amalfi Coast is located in the Gulf of Salerno in Southern Italy. It extends from Punta Campanella to Salerno in a 60Km vertiginous but incredibly scenic coastal road that will become one of the most beautiful drives of your life. Amalfi Coast region also includes the three islands of Capri, Ischia and Procida and it has other landmarks to visit around like Pompeii historical site or Naples.
You can either stay in one location and do some day trips or stay in several villages along the coast to experience their unique vibe and lifestyle.
If you visit the Amalfi Coast during Summer, the best option to move around the coast is probably renting a scooter or doing some boat tours. If you're planning to rent a car, be aware that traffic in the narrow Amalfi roads is pretty intense and parking is extremely difficult and expensive.
I had planned to stay for one week, but unfortunately my flight was canceled last minute and I had to shorten my trip to only four days and to change my travel plans. With so little time, I spent most of it in Positano and Ravello.
I will share in this blog post the highlights of my short trip to the Amalfi Coast, focusing in Positano and Ravello where I stayed most of my time. But also some of the things I had planned to do but I didn't have enough time. I guess I have a very good reason to go back soon!
Even if I loved every single moment and location of my trip to the Amalfi Coast, I have to confess that Positano has won my heart.I had read travelers from all over the world saying that Positano was one their favourite destinations. Hands up! Now I understand why and I can only say that I agree. Maybe because I had been waiting to visit Positano for so long. Maybe because I arrived in the exact day of my birthday. Or just because it is truly a gem, but I immediately felt in love with Positano the same moment that I arrived.
Positano is a mix of the Italian la dolce vita mood with both simplicity and sophistication. I spent two days and a half in Positano, but I would have spent more time wandering around its typical streets, shopping, eating amazing food and enjoying the unique lifestyle. 
Located alongside a hill towards the sparkling blue Mediterranean, Positano has the perfect postcard-like views with pastel coloured houses almost embracing the sea. It means it is a photographer's paradise and you will want to stop in every step of the way to take a picture. You will find some of the best and most iconic view shots from Via Cristoforo Colombo.
Because the town is built in a mountainside, be ready to step and tiny streets and passageways which can be challenging in a warm Summer day. But it is totally worth it. 
Walk by the centre of Positano and get lost wandering around. Stop by its many shops, from luxurious international brands to art galleries, traditional handcraft places and Positano typical lemon goodies. I couldn't resist to buy a pair of handmade sandals. Yes, that's right. You choose the model, the adorns and in half an hour you have a pair of custom-made and unique sandals crafted especially for you. That is the ultimate fashion gift you can have from Positano.
After exploring the city centre and eventually doing some shopping, you will get to the beautiful Church of Santa Maria, Chiesa di Santa Maria Assunta, located by the sea and open to visitors. From there take the sea front promenade leading to the beach with many terraces and restaurants to try the delicious Italian local food.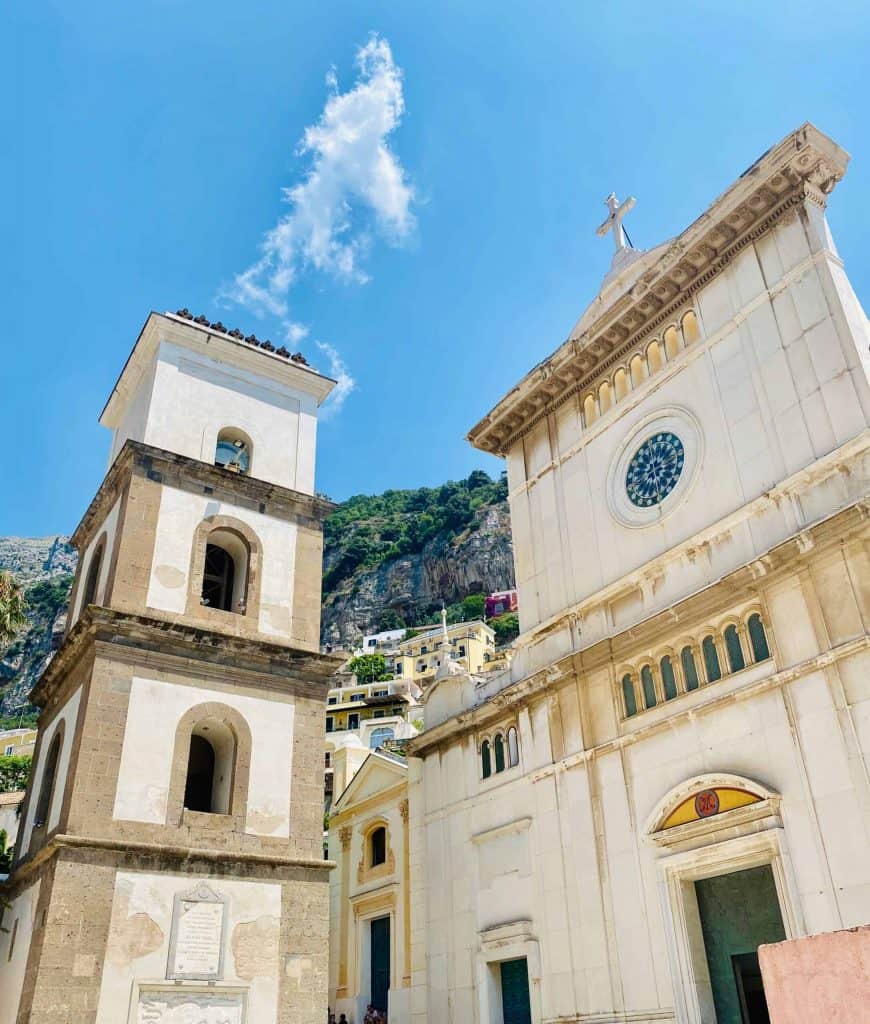 Spend some time at the beach. You are in one of the most famous Summer beach destinations in the world, after all. The most-known beach in Positano is Spiaggia Grande, nestled at the bottom of the hill, with charming backdrop views. It can be easily crowded and I was recommended to book sunbeds in advance, especially to get the front sea ones. That's what I did and I spent a great time enjoying Positano's seaside. But there is also a free beach area.
There are other beaches in Positano outside of the city centre like Fornillo Beach, Laurito Beach or Arienzo Beach Club, but I didn't visit them. I read Arienzo is one of the top-rated beaches and it's reachable by boat, which is a great way to see Positano from the sea. You can contact the beach club to reserve sun-beds and to schedule the transport. Most of the beaches in the area are rocky, but all beautiful, charming and refreshing. 
If you love hiking, there is a famous walk starting in Positano – the Walk of Gods. It is a trail carved into the cliffs with stunning views to the sea and some coastal villages. It is a 6,5km hike and it is considered moderate to difficult, depending on your experience on hiking. I didn't do it because it takes a long time and it was too warm when I visited Positano in the middle of July, but it should be a nice plan for hiking lovers.
Don't miss the opportunity to spend some time admiring the beautiful Mediterranean sunsets at the end the day in one of the many terrace venues with Positano views. 
And last but not least, you are at the heart of the Amalfi Coast, so Positano is a great option to be based during your visit to this region and to take some day trips to the many amazing places around, most of them that I mention in this blog post.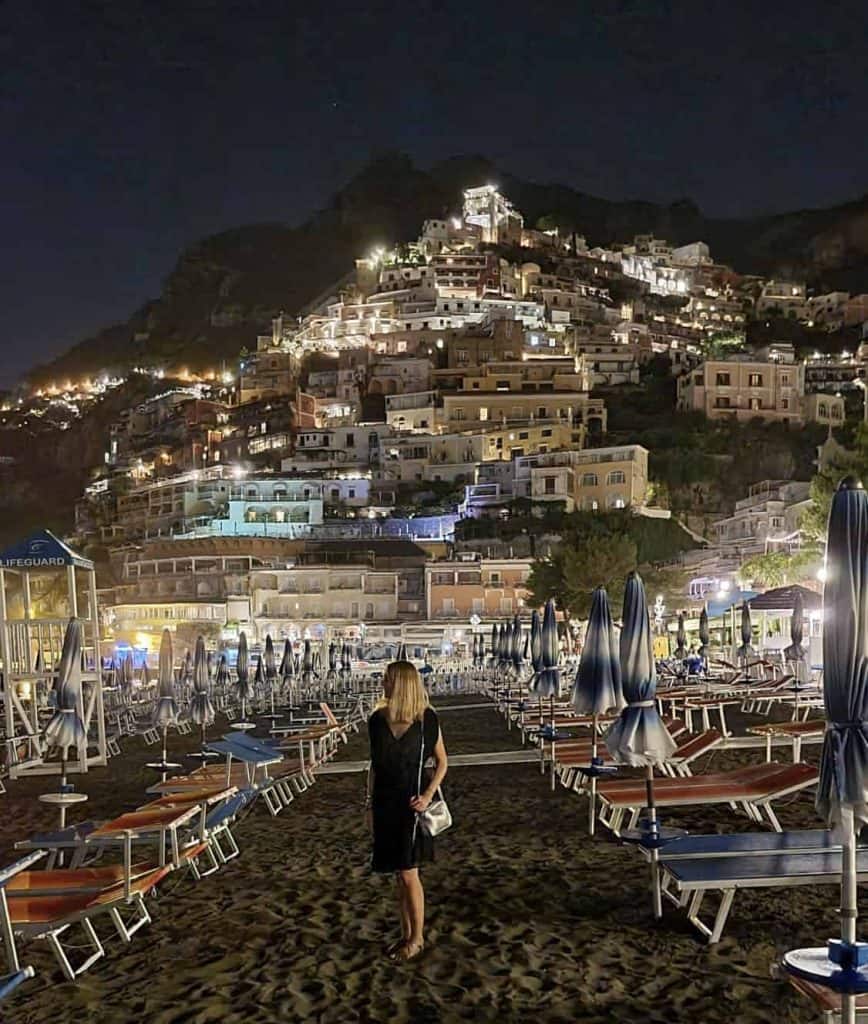 There are many accommodation options in Positano, from world known 5 start hotels, to comfortable and more affordable local accommodation. I decided to stay for 2 nights in Villa Fiorentino, a beautiful luxury villas and apartments accommodation conveniently located a few minutes away from Positano centre with amazing infinity pools and jacuzzi facing the sea. Literally I had the best Positano view from my room terrace!
Unlike other cities in the Amalfi Coast, Ravello is not located by the sea. Instead, it sits in a mountain 350m above sea level and it has stunning views to the nearby coastline and the city of Maiori in the distance. Often considered the jewel in the crown of the region, it's easy to understand why when visiting it.
Characterised by secluded elegant villas, glamorous gardens, stunning views and a picturesque old town with many typical shops and restaurants, Ravello is a must go place when in the Amalfi Coast. Known as the city of music, "la citta della musica", it has inspired many artists and writers.
Take some time to walk by the typical streets of Ravello and immerse yourself in the charming atmosphere of this small city. Stop by Ravello's Chatedral, the Duomi, facing the main square – Piazza Vescovado.
Don't miss the opportunity to visit Villa Rufolo. Built in the 13th century by a rich merchant family, this amazing villa became a historical and cultural landmark of Ravello. The hilltop gardens are famous worldwide by the stunning views to the sea and the Amalfi Coast and by the Moorish style architecture.
This villa has inspired many artists, including the famous German composer Richard Wagner, that felt in love with it and composed one of his most important operas during his visit to Ravello. Nowadays Villa Rufolo hosts Ravelo's annual music festival taking place on a stage built in the gardens overlooking the Mediterranean Sea.
Another mandatory visit when in Ravello is Villa Cimbrone, located at the top of a promontory with the most scenic views to the dramatic coastline below. Villa Cimbroni's history dates back to the 11th century, but it has been renovated in the early 20th century and it is now a charm hotel. It is also a very popular place for weddings and receptions. The day I visited Villa Cimbroni I saw a bride's shooting session and I couldn't imagine a more magical place for a wedding ceremony.
Even if you are not staying at the hotel or participating in an event, it is possible to visit its gardens. And visiting Villa Cimbroni's gardens is entering a fairytale ambiance where you can be lost for a few hours exploring the many walkways, corners, statues, viewpoints and the cloister.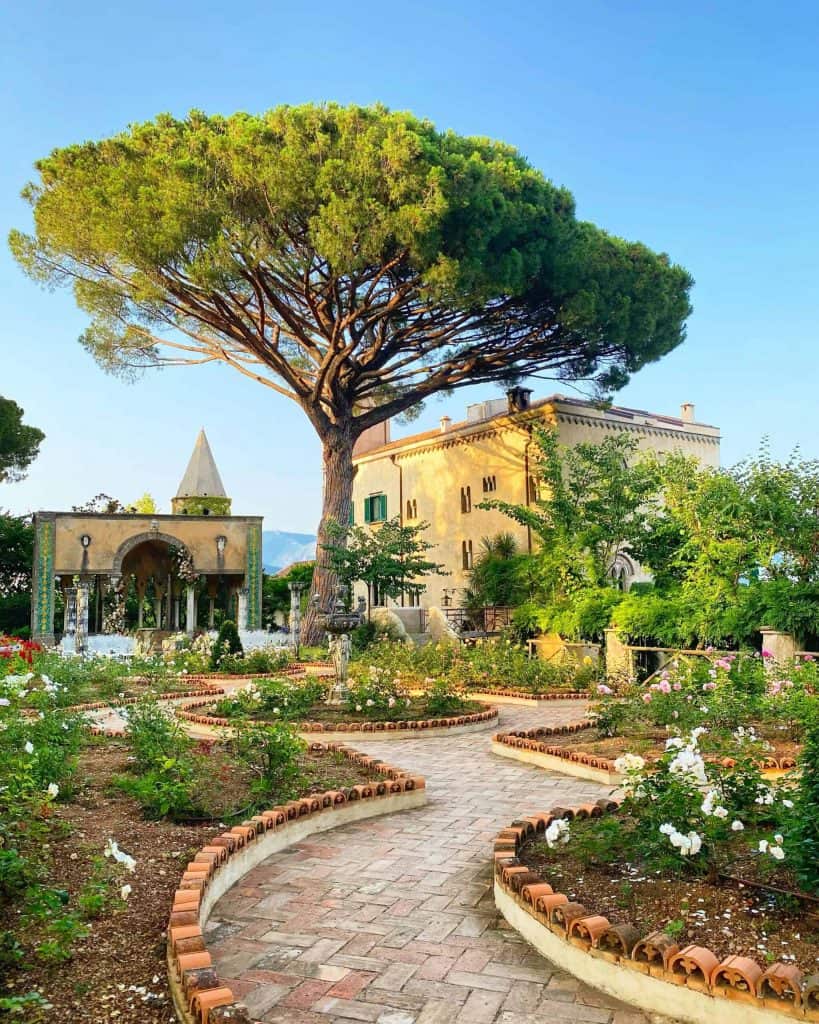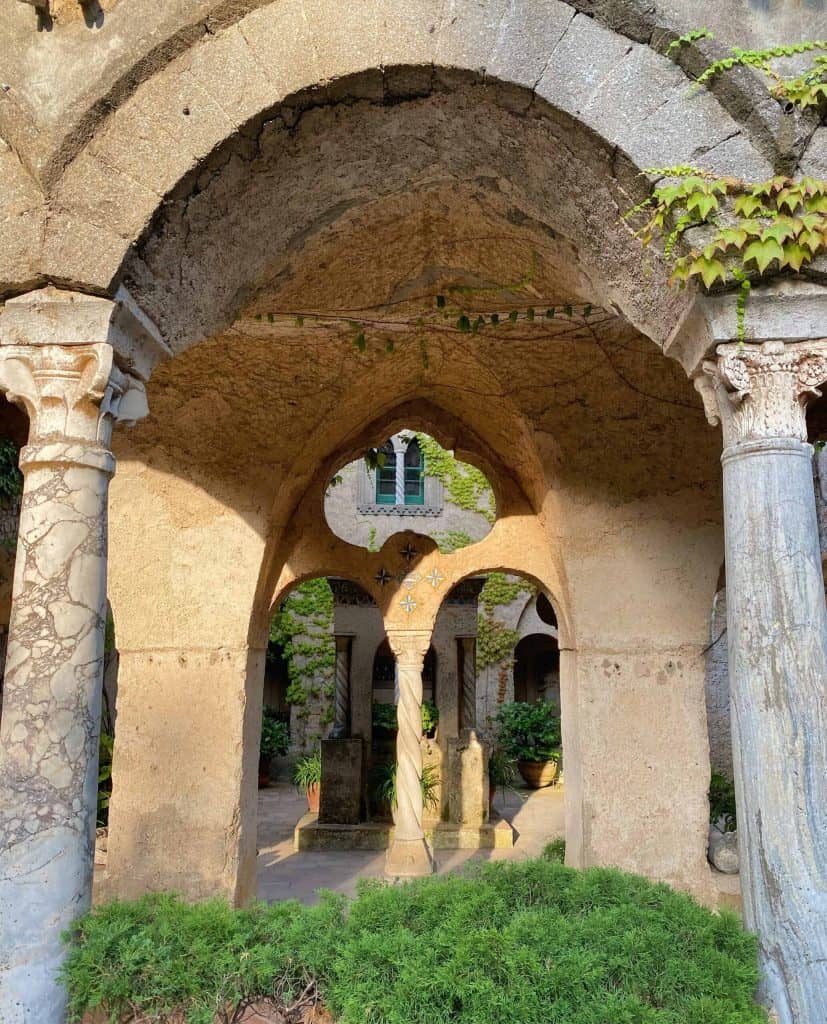 The highlight of Villa Cimbroni is the famous Terrace of Infinity, Terrazza dell'Infinito. There are no words to describe how beautiful this place is. With the most stunning views to the Mediterranean Sea and lined by several classic marble busts, it has been considered by the famous American author Gore Vidal the finest view in the world. Sunsets from the Terrace of Infinity are incredible, so if possible plan your visit at the end of day.
I spent one day and half in Ravello, which was great to explore the main landmarks of this town, but I could easily have spent more time. I stayed in Villa Piedimonte, a beautiful hotel located at walking distance to the centre of Ravello with great views to the coastline.
No matter if you rent a car, a scooter or take a taxi, you need to experience the breathtaking coastal drives in the world famous Costiera Amalfitana road. As I mentioned it extends from Punta Campanella to Salerno, but many people starts this journey in the beautiful city of Sorrento, which is usually one of the first stops in the region.
Along Amalfi Coast you will find many villages and terrace towns like Positano, Praiano, Amalfi, Ravello, Minori or Maiori. Don't miss Amalfi, the town that names this Italian coast which is also worth to visit with its beautiful Cathedral at the top of a staircase in the heart of Amalfi and  beautiful views over the city.
Stop as many times as you can to admire the dramatic sea views from the steep cliffs and don't forget to treat yourself with a limoncello or a lemonade in one of the many lemon-themed typical shops around the road. After all the Amalfi Coast is also famous for the lemon trees and all sort of lemon related delicious specialities.
Located near Mount Vesuvius volcano, the city of Pompeii became sadly famous because it was completely destroyed in 79 AD when Vesuvius volcano erupted, covering the city with ashes and volcanic debris.
It was discovered in the 16th century and its ruins are now an archaeological site that takes visitors back in time in an evocative experience. 
Visiting Pompeii was also in my list, but it was one of the places I couldn't visit this time.
Do a Boat Tour and Visit Capri Island
One of the best ways to explore the Amalfi Coast is by boat and there are many options to choose from. You can either take a day tour to visit the scenic coast and sea caves like the Emerald Grotto, take a boat to stop by multiple villages, admire the iconic Furore Beach or do one of the famous sunset tours. 
Probably the most famous boat tour in the region is to visit the iconic Capri Island, well-known for the majestic landscapes and blue sea, elegant villages and great restaurants and shops. In Capri there are many things to do, like taking a cable car to see the views from Mount Solaro, visiting the Blue Grooto sea cave, or exploring typical villages. I had planned to visit Capri, but it was one of the day tours that I had to cancel due to the lack of time.